REGISTRATION FOR SPRING CONVENTION NOW OPEN
Here are all the need-to-know details…

CHARLES AND ANDREA OVERBY TO DELIVER JOINT HAMILTON KEYNOTE
We are hosting TWO of MSPA's longest, strongest supporters to deliver our spring Pam Hamilton Memorial Keynote Address. Charles and Andrea Overby developed their initial passion for journalism as the editors of rival high school newspapers in Jackson, Miss. Charles was the editor of the Rambler at Provine High School and Andrea led the Hoofbeat at Murrah High School. Both publications were named among the five best student newspapers in the country by the American Newspaper Publishers Association in 1964.
Andrea became editor for the Spectator newspaper at the Mississippi University for Women and a reporter for the Clarion-Ledger in Jackson. She later helped edit scientific journals at the American Chemical Society in Washington, D.C. and worked for congressman G.V. (Sonny) Montgomery. Charles attended Ole Miss and served as editor of the Daily Mississippian. He led the Clarion-Ledger to a Pulitzer Prize in 1983 and was CEO of the Freedom Forum and Newseum in Washington, D.C. until 2011. He is currently the chairman of the Overby Center for Southern Journalism and Politics at the University of Mississippi.
They have three children and three grandchildren and reside in Franklin, Tenn.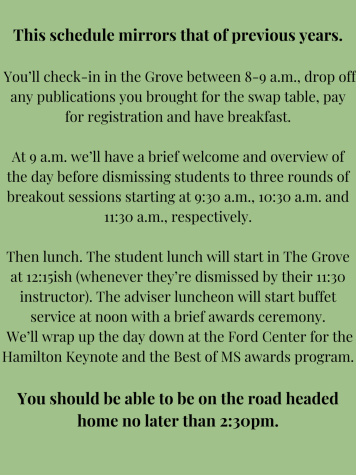 The registration site is up and running. It's also linked under 'State Conventions' on our main site.
Registration is $25 per student and advisers come free.

We're not collecting any payments online or via mail. You'll need to bring payment with you to the check-in table on the morning of the convention. (You can pay with school checks, personal checks, or cash)
Due to spring break, the HARD DEADLINE for registration this year is Friday, March 10. Please register your school as early as possible. Early registrations really help us in planning appropriately for the necessary number of sessions, etc.
SESSION PITCHES
If you would like to volunteer yourself or your students to lead a session at MSPA, please email [email protected] a proposed session description by March 1.
SCHOLARSHIP APPLICATIONS
Eligible seniors planning on majoring in journalism/communication can apply for an in-state MSPA scholarship HERE.
.
BEST OF SHOW CONTESTS
These competitions are something we started long ago in order to honor the good work your students published after our Feb. 15 Best of MS deadline, like this month's newspaper or broadcast, or stuff that's still "in progress", like unpublished yearbook or lit mag spreads, or simply stuff you thought was awesome but couldn't quite squeeze on a published page somewhere or into another contest. These contests are only for those schools attending our spring convention, though the actual students who produced the work aren't required to be present. A full list of categories can be found HERE.

Each entry is $5 (paid at check-in) and there is no limit to the number of entries you can submit.
Entries will be accepted via Google Drive until Sunday, March 19.
If you have any questions, reach out to MSPA director RJ Morgan, MJE ([email protected])
WE WILL SEE YOU ON MARCH 22ND!